It's Only A Matter Of Time Before Termites Invade!
Living in the Richardson, Dallas, and Plano areas offers many benefits, but one of the downfalls of living here in Texas is that termites are a huge threat. If you haven't already experienced problems with these wood-destroying pests, then it's only a matter of time before they make their way onto your property, and eventually, right into your home. Here in the United States, termites cause over $5 billion in property damage to homes and businesses every year. To avoid becoming a part of that statistic, it's vital to take preventative action against termites rather than trying to remove them after they've already gotten into your home. And with Bug Head Pest Control, prevention is easy!
Our Termite Control Services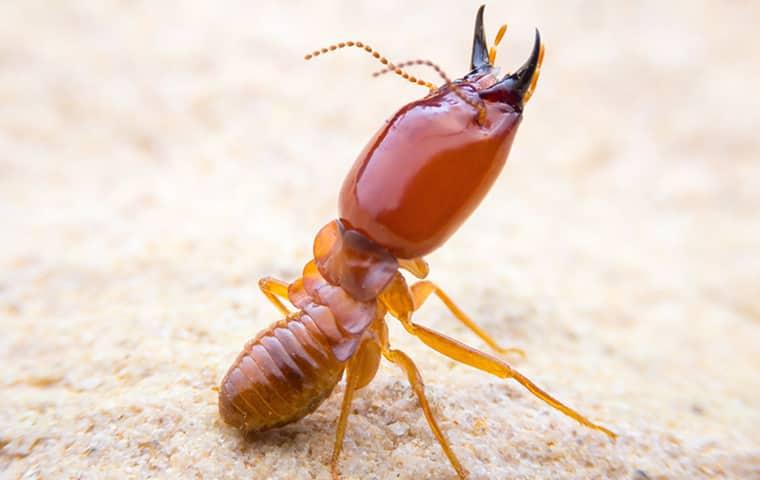 Free Termite Inspections
Whether you're moving into a new home or have lived in the same house for your entire life, getting a termite inspection should be at the top of your to-do list. And since Bug Head Pest Control offers free termite inspections, there's no reason to wait! Our service technicians are trained to spot the hard-to-find signs of a termite infestation that can easily go unnoticed and put your home at risk.
The Sentricon System® With Always Active™
Whether your home inspection turned up an active termite infestation or a termite-free home, the best thing you can do for the safety of your house is to install the Sentricon System® with Always Active™ onto your property.
The Sentricon System® is a termite baiting system trusted by home and business owners all over the country. It's even used by the White House!

Sentricon works through the installation of bait stations that are strategically placed around the perimeter of your home. These bait stations have proven to be more attractive to termites than the cellulose found in the wood structures of your home.

When a termite takes the bait, it will not only alert the other termites to the location of the bait, but will also bring it back to the nest, effectively killing the entire colony.

Sentricon® not only eliminates active termite colonies near your home, it also monitors for termite activity 24 hours a day, 7 days a week. Since the system must be installed and monitored by certified technicians, you can rest assured that the professionals at Bug Head Pest Control are monitoring your home for termite activity year-round.
Don't wait until termites have damaged your home! Instead, take steps to protect your home by setting up a time for your free termite inspection with us!
Request Your Free Inspection
Complete the form below to schedule your no obligation inspection.